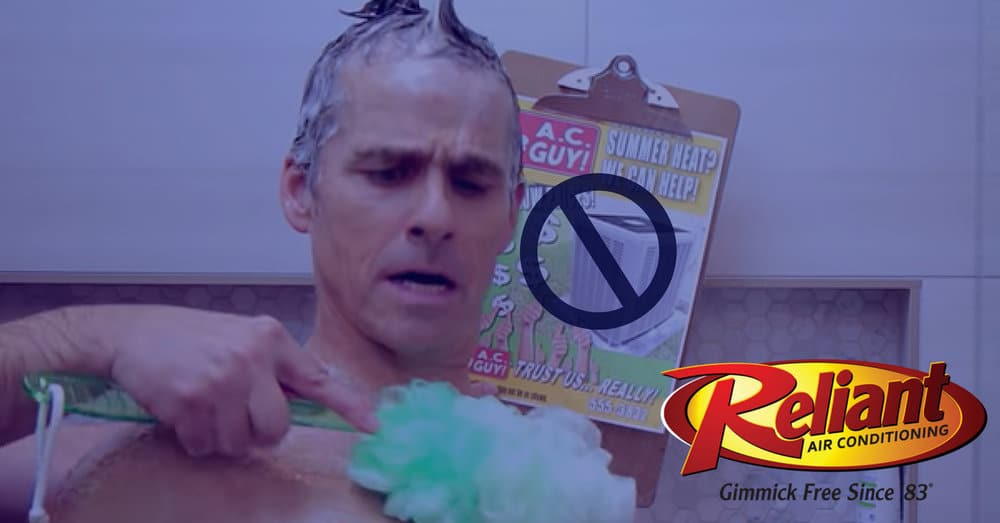 Some AC companies can be shady. Ever had a sales guy in your house that won't leave until you buy? Or even someone you wouldn't want in your house in the first place? At Reliant Air Conditioning, our process is quick and easy.
We know your home is your castle and that you like your repair people to get in and out as quickly and efficiently as possible. That's why when our trained technicians show up, you won't get this…
Alrighty, let us wipe off the ick off us and tell you what you CAN expect from a Reliant visit.
The project will be done right and on-time.

Flexible scheduling with our trained technicians.

Same day service for most AC servicing.

100% satisfaction guarantee

Licensed and insured

Professional technicians who won't interrupt your shower. Never ever.
And commission, well, lets just say we've had it with the underhanded folks out there that nickel and dime you for every little thing just to make a buck.
We're proud of our 30 years of service and look forward to helping you with any HVAC system repair. Save money with Reliant Air Conditioning and check out our residential service coupons today. Or, save on a new system with these exclusive online offers!